EutelTRACS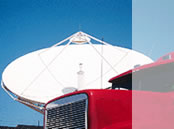 What is Euteltracs?
A reliable satellite-based international fleet management and communication system.
Euteltracs, the first and most successful satellite based mobile fleet communication system in the world, was developed to increase efficiency and provide logistical solutions to road & marine fleets.
Euteltracs is a leading satellite communication system that provides simultaneous positioning and messaging services for international transport organizations. We offer turnkey delivery fleet management solutions for customers interested in increasing their fleet's productivity and efficiency.
The System offers uninterrupted communication between fleet management centers and mobile vehicles in Europe, North Africa, Russia, Mid-Asia and the Middle East via a Eutelsat satellite.
The satellite ground station in Europe collects messages and vehicle information from the satellite and transmits it to service providers via satellite or land lines.
Our customers can manage their fleet, view positions, and message with drivers through our Maptracs software, or using our Webtracs web-based application.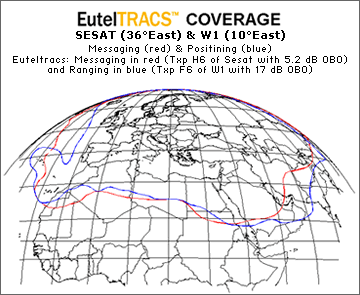 Other Integrated Euteltracs Systems
Trailertracs: Allows a transport company to track and manage trailers, as well as truck cabs.
Reefertracs: Allows a company to monitor refrigerator containers and record ambient temperature during transportation.
Sensortracs: Enables a company to monitor petrol usage, and therefore, driver performance may be determined and reported.

What can Euteltracs do for you
Determines the location of a vehicle within a radius of 20 meters.
Enables direct and immediate contact between vehicle and fleet management center.
Allows tracking of vehicle positions by main and branch offices as well as clients.
Secure two-way communication between main office, vehicles and third parties.
Access to databases from mobile terminals.
Access to services such as fax e-mails from mobile terminals.
Relays alarm and urgent situation messages to the main office, other vehicles and to the closest assistant centres.
Collects vehicle information and transmits to a main office.
Transfers road and weather conditions to mobile vehicles.
Offers communication, transaction, and charting software that may be integrated into a fleet management system.
Euteltracs is being used on 4 continents, in 32 countries including the USA, Germany, Japan, and China and inside 450,000 vehicles and ships. In Turkey, approximately 2000 trucks and long haul vehicles are equipped with the Euteltracs system.
In Europe, more than 500 companies use Euteltracs, enabling them to track and manage goods, vehicles and manpower on motorways and seaways. The reliability and features of the System allows these companies to realize many competitive advantages.
Euteltracs is the preferred system for urgent and emergency messaging systems for seaways & railways, and is used in security systems in European community countries.
Euteltracs is also used worldwide in SCADA applications such as Tele-monitoring, controlling of pipelines, seismic data collection, and security systems.
Saves 100 incoming & outgoing messages.
Interior keyboard unit handles all messaging and information.
RS-232 output/input providing connection to the computer in the vehicle.
Messages may be up to 1900 characters.
Equipment withstands bumps, vibration and heat. (From –300C to +600C)
External Systems that can be Integrated to the
Euteltracs System
Barcode reader
Printer
Gas level sensor
Gas consumption sensor
Door sensor
Tug door sensor
Carbon dioxide level sensor
Panic button
Pager
Speed sensor
Head sensor
Vehicle security sensors
Remote control sensor
Tug connection sensor
Gas tank cover sensor